WE BUY ANTIQUE AMERICAN FLAGS,
CONFEDERATE FLAGS, POLITICAL FLAGS & BANNERS
We are the most significant spending buyers of American national flags from all sources worldwide, having broke world records on both sewn and printed examples.
WHAT DO I DO IF I WISH TO SELL ONE?
Please email photos to info@JeffBridgman.com. Bear in mind that I need to see good close-ups of fabrics and stitching. Include measurements.
Include:
Measurements
Full view image
Center point where red, white & blue join closeup
Hoist / sleeve closeup image

WE PRESERVE OUR FLAGS
We run a professional flag conservation business, which we use to properly mount, preserve, and display antique flags, both for ourselves as well as for collectors and private owners of family heirlooms.

WE PRESERVE FAMILY HISTORY
We endeavor to take great care of these important artifacts and we keep the family history with a flag for future generations to enjoy and appreciate. We consider ourselves stewards of these fantastic pieces of American history. We want people to remember where these artifacts came from, who made them or owned them, and the role these individuals played in the growing of our nation. We print a label and place it on the back of the frame that includes relevant known facts.
CONSIDERING AUCTION?
When we buy a flag at auction, we almost invariably buy it for less money than we would in a private transaction. Why? Because buyers of flags are skeptical of authenticity from less knowledgeable sources, and rightfully so. The auction world is aghast with fakes and misrepresented examples. Flag experts are few and far between. The few who pledge their services in the auction world do not have the opportunity to handle the amount of material we do. Auctioneers and their staffs are terribly suited to authenticate and identify flags. For this reason, fake and fraudulent material appears in practically every major sale, to say nothing of online sites.
Thanks & Warm Regards,
Jeff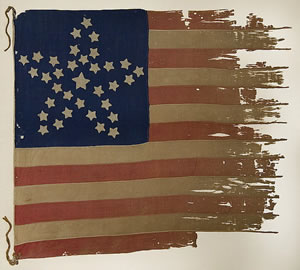 Full View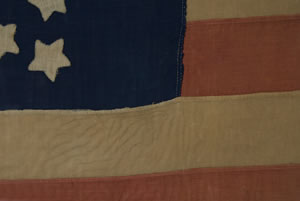 Center point where red, white & blue join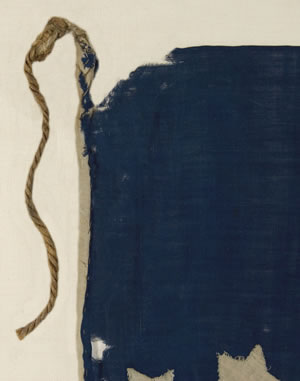 Hoist / Sleeve