by Jeff Bridgman for Country Home Magazine
This article was published in Country Home
(1) Unless you are buying from a dealer who knows a lot about flags, start small and be cautious. Most people, including almost all antiques dealers, know astonishingly little about early American flags. Be extremely wary of internet auctions, take everything you hear with a grain of salt, and ask a lot of questions.

(2) Read as much as you can, and look at as many examples as possible. A book called The Stars and The Stripes by Mastai is the best reference text for American National Flags. While out-of-print, The Stars and The Stripes is widely available from used book dealers. (Note: Be sure to get the copy that has approximately 241 pages. There is much smaller book (50-75 pages) with the same title that covers an exhibit of the Mastai collection).

(3) Know the two basic types of early flags: sewn flags and parade flags. Sewn flags are constructed by machine sewing, hand sewing, or by a combination of both, and were intended for long term use. Parade flags are printed on cotton, silk, or wool. They were intended for short-term use at parades, political rallies, and other events. Both types are highly sought after by collectors for different reasons.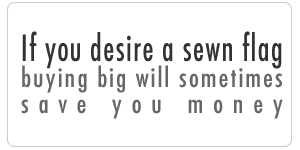 (4) If you desire a sewn flag, buying big will sometimes save you money. In 1777 our flag was first used on ships, and this remained its primary use for the next 100 years. Most sewn flags of the 19th century are thus greater than 8' long, and simply too large for most people who wish to display them. This places a premium on small, early, sewn flags. Making room for a large flag will often get you a more interesting example for less money. Some creativity can help you display larger flags. For example, flags can be folded when they are framed to show just the canton and a portion of the stripes, making for a much smaller display. They can be hung vertically, as well, with a portion of the stripes folded up underneath. This also requires less wall space. [NOTE: When hanging the flag vertically, be sure that the canton is always correctly displayed in the upper left].

(5) Become aware of flag construction methods. For example, if a flag has machine sewing, it can certainly be no earlier than the mid-1830s, and is likely no earlier than1850. The treadle sewing machine was patented in the early 1840's, but it was not in widespread use until Singer marketed it in the mid 1850's. At least some treadle sewing seems to be present in 50% or more of Civil War period flags. By the Centennial it was used on almost all stripes, although stars were often still hand appliqued. By the turn-of-the century, hand sewing of American National flags had all but disappeared entirely, and zig-zag machine stitching is first seen in flag manufacturing. Knowing such facts is the first step to understanding and dating sewn flags.

(6) Don't get hung up on condition. Unlike samplers and quilts, most flags are expected to have been used outdoors. This often subjected them to wind and water damage, despite the conscious efforts of their owners. Military use introduced other hazards, and was generally more strenuous. It is for these reasons that flags are not expected to be perfect. Often times they have the rips, tears, stains and foxing that reveals their age. For many of our clients, this adds significantly to their appeal, because history is apparent in the worn, weathered, and much loved symbol of our nation. While condition plays some role in the price of an antique flag, it is far from the most important factor.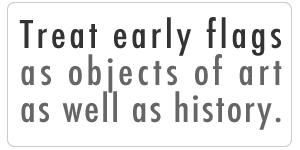 (7) Treat early flags as objects of art as well as history. Until 1912 there were no regulations concerning how to lay out the stars on the blue field. It is for this reason that so many unique and beautiful star designs are seen over the first 135 years of the life of our flag. Such star patterns add a great element of folk art to American National Flags, and they are collected for their

(8) Consider limiting your collection to a particular interest. Parade flags, for example, are small in size (generally between 1 inches to 3 feet in length) and exhibit an almost endless number of fantastic star configurations. I have seen many flags, but even so I regularly come across parade flags that I have never seen before. This creates regular opportunities for me to own unique items that almost no one I know has ever seen. Filling a wall with a collection of these small flags makes for a display that is both dynamic and extraordinary.

(9) Conserve your flag properly. I recommend having your flag stitched to 100% cotton fabric or 100% cotton rag mat board. The person who does this should have good knowledge of the techniques necessary to do this properly. The flag should be covered, if possible, by glass or plexiglas with u.v. filtering properties. Space should be left between the glass or plexiglas and the flag, so that it does not absorb any condensation that builds up from temperature and humidity changes. And even if you do use u.v. protective materials, try to avoid hanging the flag in a place where it gets direct sunlight for an extended period.

(10) Never discard early American flags or turn them in to be respectfully burned or buried. While the latter of these two choices is what we have been taught to do in the past, it is even more respectful to carefully preserve and restore them for Americans to enjoy. Even if a flag has substantial damage, it is a treasure of our nation's past and is sacred to our heritage. Contact a respected antique flag dealer, auction house, collector, museum, or historical society. There are many Americans who are eager to preserve, respect, and enjoy early American National Flags, and they may have greater monetary value than you might guess.